Insurtechs want to compete with the classic insurance companies. But are the Germans even prepared to part with the classic insurance agent? Studies show: The insurance industry is still a matter of trust.
What are Insurtechs?
Insurtech refers to the use of technological innovations to extract savings and efficiency from the current insurance model. Insurtech is an "insurance protection" and a "technology" inspired by the term Fintech. The belief and motivation of Insurtech companies is that the insurance industry is ready for innovation and disruption.
Insurtech explores and exploits the ways in which traditional and large insurance companies have less incentive to innovate, such as offering tailor-made policies, social security and using new data streams from internet-enabled devices to dynamically calculate premiums based on observed behavior.
Insurance is an old business, one of the oldest, and is preferred by those with long experience in the market. Traditionally, broad insurance actuarial tables are used to assign policyholders to a risk category. The group is then adjusted so that enough people are put together to ensure that the policies as a whole are profitable for the company.
This approach naturally results in some people paying more than they should, based on the basic amount of data used to group people together.
The Insurance Market in Germany
Some insurance companies such as Allianz and Generali have been in business for more than 100 years. Insurtechs now want to attack these market leaders in their core business. They offer contract conclusions and claims notifications via app or act as online brokers. Last year there were already 32 such insurance start-ups on the German market, according to a report by the Rostock-based Insurtech Hepster.
The US insurtech provider Lemonade sells liability, household and travel insurance using artificial intelligence and chatbots that react automatically to messages. According to Lemonade, it has sold around 500,000 insurance policies to US customers in the past four years. In Germany, however, Lemonade will probably not grow as quickly.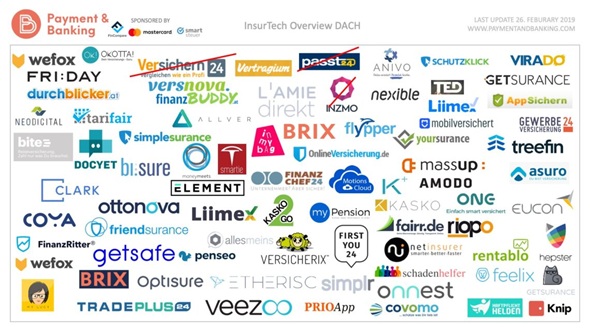 A survey shows that hardly any German even knows what insurtechs are. 75 percent of those surveyed who are not already an Insurtechs customer have, according to their own statements, not yet heard of the digital insurers. Another 20 percent know insurtechs, but see no reason to deviate from their traditional insurer.
Customers value individual consultation
They simply don't trust the newcomers, a study conducted by the insurer Canada Life together with Yougov's pollsters also shows. More than 4,000 people in various countries were asked whether they could imagine making provisions for old age in ten years' time with Amazon or Google.
Both tech giants have been toying with the idea of entering the insurtech market for some time. Based on the data they have collected about their users, they want to tailor policies to suit their customers' needs. According to the study, however, Germans are clearly rejecting this idea. Only eleven percent are open to it.
According to a Berlin-based financial consultancy UniversalHires, the end customer business, most Insurtechs initially limit themselves to property and liability insurance, including newcomer Lemonade. The reason is obvious: the contracts come off the peg and require little individual adaptation.
That is why many customers in this segment are already accessing online, as figures from the German Insurance Association (GDV) from 2017 show: 15 percent of property and casualty insurance policies were concluded online at that time.
For life insurance, on the other hand, the figure was only 2.2 percent. One possible reason, according to experts, is that the more personal the insurance, the more likely customers are to rely on individual advice. This is particularly the case with private pension insurance policies.
Insurtechs counters skepticism
This is because German customers have high reservations about digital insurers. While insurers such as Allianz, Ergo and Huk have been around for a long time, insurtechs such as Clark, Friendsurance and Friday are still new to many people. 93 percent of Insurtech customers in the Hepster survey were unsure whether they could trust the digital insurer before booking.
The respondents were also skeptical about the insurance benefits. Before signing the contract, they feared that the service would not function smoothly (76 percent) and that the insurers' lack of experience could be a problem (69 percent). The Insurtechs must therefore first build up trust in the German market.
The industry association GDV takes a relaxed view of the competition from insurtechs. "There is no patent protection on insurance products", a spokesperson said when asked. So if a start-up were successful with a new type of insurance, established insurers could simply copy the concept and exploit their confidence bonus.