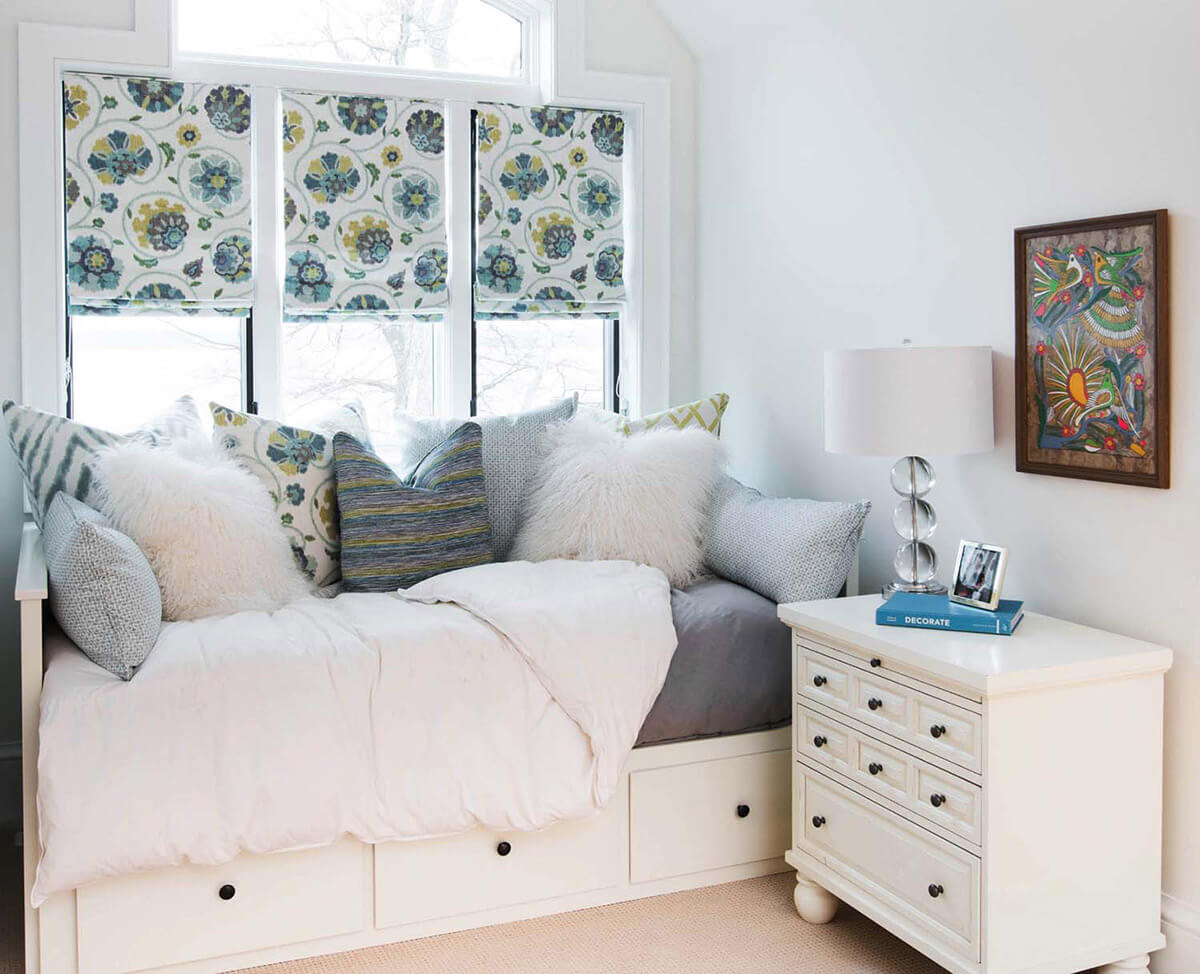 If your bedroom is on the compact side it can be difficult to organize your space. A cluttered and crowded bedroom isn't conducive to restful sleep, so it's important to find ways to arrange your stuff and keep it all in a tidy condition so you can enjoy a bit of peace and relaxation in your boudoir. Here are some top tips to help you.
Have Minimalist Goals
Lots of items which you'll find being sold as essential bedroom furnishings aren't really essential at all. While a large free-standing closet or a vanity table may be nice to have, the average-sized home often can't accommodate such huge pieces of furniture. Think about the absolute basics – the bed, a bedside table, a closet for your clothing and then work around those needs.
Clearing The Nightstand
Whether you have a nightstand or small dresser beside your bed, it can be all too easy to end up piling lots of items onto it. The key to this is to choose a nightstand with storage space built in. A unit with drawers will help you to keep the surface clear and clean so you have somewhere to keep your lamp. You could even clear your nightstand completely by installing a bedside lamp onto the wall beside the bed.
Think In Three Dimensions
Don't just think about covering your floor space, think about the space under your furniture and higher up on the walls too. Shelving units that extend up to the ceiling can be perfect for a compact bedroom and will let you store a lot more stuff in a tidy and organized way. Using the space underneath the bed is another great option. You can use flat, wide plastic crates to store items which you don't use too regularly. Even better, consider a bed with inbuilt storage such as an ottoman bed or a bed with drawers to keep your things tidy and organized.
Use Light Colors
Using dark colors in your small bedroom will make it feel more oppressive and prison-like. Think about painting the walls in a light and bright color to open up the space and make it feel more airy. White is always a good choice, but creams, beiges and soft greys all work equally well.
Add Mirrors
Mirrors are a well known trick for making any space appear larger. Full size mirrors that take up an entire wall are especially useful at achieving this effect, and if you have built-in closets, replacing the standard doors with mirrored ones can help enormously. Even a smaller mirror strategically placed on the wall opposite the window will make the room appear more spacious.
Storing Your Shoes
Shoes can take up a huge amount of space in a small bedroom, especially if you have a passion for heels! Rather than allowing your shoes to mount up in piles all over the floor consider investing in a shoe rack that can be kept in another part of your home – perhaps in the entryway or even in the corridor outside your bedroom. Or, alternatively, a shoe bag which can be hung onto your closet door would be a good way to keep your shoes in a safe and secure place without them spilling out from under your bed.
Although coping with a small bedroom may not be easy, it's entirely possible to create a comfortable, welcoming and relaxing space as long as you follow these top tips and maximize the storage that you have available. Remember, it's not the size that matters, it's what you do with it that counts!